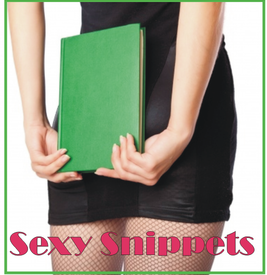 The ERWA blog is not primarily intended for author promotion. However, we've decided we should give our author/members an occasional opportunity to expose themselves (so to speak) to the reading public. Hence, we have declared the 19th of every month at the Erotica Readers & Writers Association blog Sexy Snippet Day.
On Sexy Snippet day, any author can post a tiny excerpt (200 words or less) in a comment on the day's post. Include the title from with the snippet was extracted, your name or pseudonym, and one buy link, if you'd like.
I'm going to include an example here in the body of the post, to illustrate. I'll be away on the 19th, and I want you to have a model to follow. After this month, I'll post my snippets in comments, just like everyone else.
————– Sample Sexy Snippet ——————–
He's
the sadist in our relationship. But I'm the one who's more extreme.
He
wanted to strap a butterfly vibe to my clit, to ramp up my arousal so
I could better bear the pain. Does he really believe I could be more
aroused than I already am?
I'm
immobilized in one of our dinette chairs. Leather cuffs secure my
wrists and ankles. Woven straps encircle my thighs, my upper arms, my
waist and torso. The first rasp of separating Velcro liquefied me.
No, that's not right. I've been soaked since I served him dinner and
he informed me, ever so casually, that tonight was the night.
He
putters around the kitchen, drawing out the preparations, making me
wait. My Master possesses an instinctive sense of timing – an asset
for any Dom. He plays every action for greatest effect. The goose
necked lamp from my desk has already been plugged in, ready to dispel
any shadows. Spreading a clean towel on the breakfast bar beside my
chair, he lays out his materials and implements, one at a time: latex
gloves, a cigarette lighter, rubbing alcohol, cotton balls, betadine,
gauze, surgical tape, and finally, two gleaming, silvery scalpels.
198
words from "Limits: A Love Story" in Spank Me Again, Stranger
by Lisabet Sarai
———————————-
Please follow the rules. If you post more than 200 words or more than one link, I'll remove your comment and ban you from participating in further Sexy Snippet days. So play nice!
After you've posted your snippet, feel free to share the post as a whole to Facebook, Twitter, or wherever else you think your readers hang out.
Have fun!
~ Lisabet